News & Events
Future events and Pasadena Police Foundation activities, as well as news about recent events, will be posted to this area of the site on a regular basis. Please return to the site for updates to the Foundation's activities.
Purchase Tickets for Our Upcoming Chief's Breakfast Below:
NBC4 News Story on PPF Award Recipient Police Specialist Michelle White
K-9 Retirement Party
On April 30, Several members of the local community joined us at the Police Heliport to celebrate the retirement of K-9 team members. After several years of devoted service to Pasadena, Officer Tom Brown and his partner "Brock" (German Shepard) and Officer Steve Arcand and his partner "Figo" (Belgian Trevuren) are retiring. The Pasadena community is greatful for all they have done and wish them the best!
Kids Safety Academy is Now Accepting Applications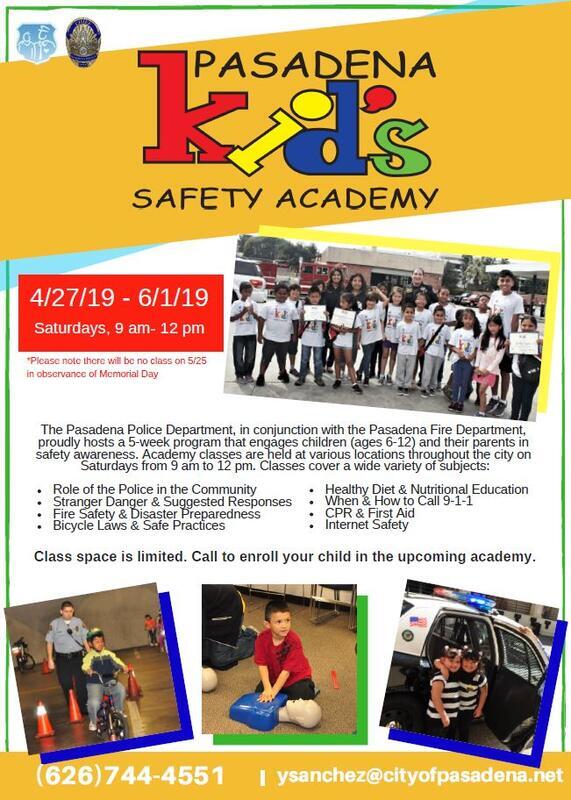 The Pasadena Police Department is now accepting applications for the Pasadena Kids Safety Academy. The 5-week program engages children ages 6-12 and their parents in safety awareness. Classes are held Saturday mornings 9 am to 12 pm at various locations in Pasadena and cover a variety of topics to include calling 9-1-1, fire safety, disaster preparedness, bicycle safety, and much more.

The next session will be held Saturday, April 27th through Saturday, June 1st. Please note, there will be no class on Saturday, May 25th in observance of Memorial Day.

The program is free. Class space is limited to 25 children. Call (626)744-4551 to enroll your child today!
ANNUAL Chief's Breakfast
The 2018 Chief's Breakfast was a big success with approximately 250 attendees. Funds were raised toward the purchase of a 2019 PPD Explorer van which will provide transportation for the Explorers to various activities and events, including assisting law enforcement at multiple large-scale City events. The Explorer program is for youth ages 14-21 and provides an environment for youth and young adults to work with officers, build life skills and self-reliance, and the possibility of a career in law enforcement. The Pasadena Police Explorer program currently has over 40 young people who are active in civic engagement, public service, and leadership roles within the community.
The Foundation was proud to recognize Park Safety Specialist Michelle White as the 2018 Myron Yanish Officer of the Year.
Police Specialist Michelle White
Michelle White spent her youth in Pasadena. After high school, she started both her family and business, operating a daycare center where she nurtured kids and developed her passion for mentoring young people. In 2002, Ms. White began her career at the Pasadena Police Department as a Park Safety Specialist (PSS). For the past
16 years, PSS White has played an instrumental role in creating family-friendly environments within the City's 24 parks. However, it is her outreach to youth that makes her truly unique.
The mother of six children, PSS White has also been a foster parent and has actively taken on the role of mentoring many children in the Pasadena community. For ten years, PSS White has served as a Pasadena Police Explorer Advisor, imparting her wisdom, love and life skills training to youth on their path to adulthood. She routinely volunteers and partners with other City departments, interacting with hundreds of kids each year and building bonds between the police department and Pasadena residents. Currently, she is working on several projects to bridge the gap between community organizations and the police department. Most notably, she is working with NAACP, Mentoring & Partnership for Youth Development (MPYD) at John Muir High School, and the Loveland Life Center with Pastor B.J King. Additionally, she is a Peer Support Advocate for the police department, an integral part of the department's Crisis Negotiation Team, and serves on the board for the San Gabriel Valley
Chapter of the National Organization of Black Law Enforcement Executives (NOBLE). PSS White is always looking for ways to help people in our community and provide resources to give them a better way of life. PSS White's efforts speak volumes on her desire and ability to make a difference in the community she serves with such distinction. We proudly salute Michelle White on her selection as this year's Police Foundation "Myron Yanish Officer of the Year."